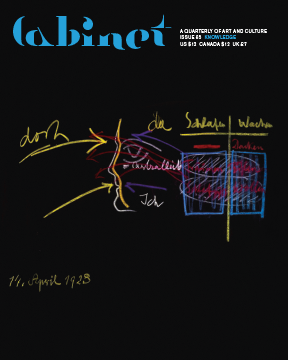 Subscription/Renewal
Starting at $32
You will receive 4 issues of the magazine. For information on shipping options and delivery times, please see this page.
Early Renewal for Individual Subscribers ONLY:
If your current subscription ends with or later than issue no. 64 "The Nose," you are renewing early. This means we can spare money on renewal letters and instead offer you a $2 discount. Please claim it from the pull-down menu below. Thank you for being early.
Cabinet
300 Nevins Street
Brooklyn, NY 11217-3028, USA
Tel: + 1 718 222 8434 Fax: + 1 718 222 3700
Subscriptions and shop email: shop@cabinetmagazine.org