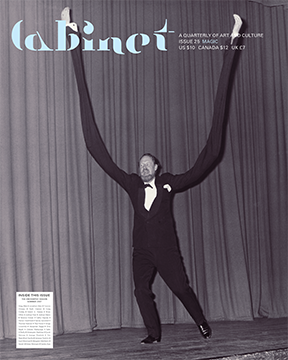 PDF of issue 26
"Magic"
$5
Download this back issue in convenient PDF form for $5. Your email receipt will contain the link for the download, which will expire one week after purchase.
Currently sold-out issues are 1–36, and 40. For tables of contents, see here.

NB: Access to sold-out-issue PDFs is free for subscribers! To subscribe, see here.
Cabinet
300 Nevins Street
Brooklyn, NY 11217-3028, USA
Tel: + 1 718 222 8434 Fax: + 1 718 222 3700
Subscriptions and shop email: shop@cabinetmagazine.org